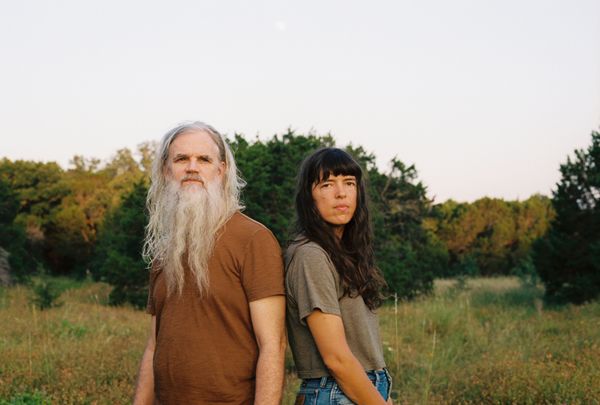 Little Mazarn is a musical collaboration between friends Lindsey Verrill (songwriter, vocalist) and Jeff Johnston (saw). They live in Austin Texas.  Their songs invent new landscapes where the ground is the sky, where the foot touches the cloud and it dissolves ever so slowly, where the eye has the entire day to observe the path of the snail.  
Lindsey and Jeff also perform, record, and collaborate with friends in Austin and beyond on bass, cello, saw, and more. They are staples of the Texas music scene. 
     The music of Little Mazarn is a cool float a few feet from the ground through a dimly lit, almost familiar forest. It is quieter than silence, big as everything, still but always moving. If you've ever had flying dreams, or an amazing night time bike ride on LSD, this might be a world for you. Chords are made up of notes; Little Mazarn gives them all their own moment. There are NO superfluous notes played here.
     Lindsey's kind and twisting voice ambles along over the spare sounds of Jeff Johnston's saw bowing, Ralph White's electric mbira wanderings, and her own slow banjo. Like DJ Screw, Bohren & Der Club of Gore, and anyone who chooses to walk instead of ride, Lindsey realizes the amazing power of slow… slow… slow music. Lindsey is at once a baby and a wise old man. Get in this canoe at dawn on some Texas river that remembers when Comanche slept under the stars.
"It's not just the unusual instrumentation that makes Verrill and Johnston's music stand out. Partly it's Verrill's voice, which carries her often melancholy melodies like an autumn breeze skimming over the serene waters of a remote swimming hole. And largely it's what is NOT there: The arrangements are so purposefully sparse that the open space in their songs almost becomes an instrument unto itself." - Peter Blackstock, The Austin American Statesman
'Watching Little Mazarn perform is almost voyeuristic, as if witnessing an intimate dance or eavesdropping on a hushed, private conversation. Their music doesn't so much demand deep attention as inspire it.' - Doug Freeman, Austin Chronicle
"...never anything less than a purely expressive adventure. Destined to become of the most-discussed and revered duos of its kind."— -Jedd Beaudoin, PopMatters
'This music, for all its simplicity, makes the heart move, and if you're in the mood to yearn, (Little Mazarn) has got you covered.' -Tiny Mix Tapes